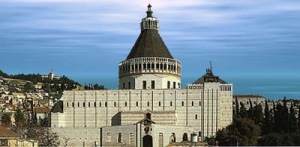 This trip takes you first from Jerusalem to Nazareth, a town in the north which was the home of Mary and Joseph according to the gospels and the place where Jesus spent most of his youth and commenced his ministry. Today, Nazareth is the largest Arab city in Israel – home to some 60,000 Christian and Muslim inhabitants – and houses numerous religious sites. We will visit the most important one of these, the Basilica of the Annunciation, which contains a grotto believed to be the home of Mary and the site of the Annunciation, along with remnants of churches from the Crusader and Byzantine eras. There will also be time to walk around in the city.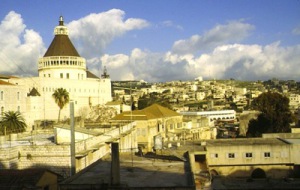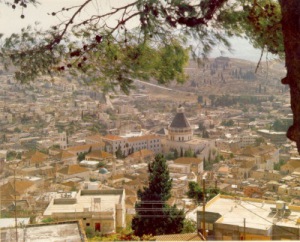 From Nazareth we proceed to the Tiberias/Sea of Galilee area, where we stop at the following places:
Tabgha, at the northeastern shore of the Sea of Galilee, which is the site of the miracle of fish and loaves. We visit the Church of Multiplication with its 4th century mosaic floor displaying the act of the miraculous multiplication of five loaves of bread and two fish.
Nearby Capernaum, an ancient fishing village is considered the place where Jesus lived during much of his ministry in the Galilee and where he cured many ill and "cast out many devils".
Tiberias, located on the lake's western shore. The city is 2,000 years old and was dedicated to the Roman Caesar Tiberius, therefore the name.
The Sea of Galilee (referred in the Bible as the Sea of Chinnereth or Chinneroth, Gennesar, Lake of Gennesaret, and Sea of Tiberias) is the site where Jesus is said to have met Simon Peter, James and John, his first disciples, and it was here that Jesus performed miracles such as stilling the raging storm that was about to swamp their boat, walking on the stormy water to his disciples, preaching the Sermon of the Mount, and performing the miracle of the draught of fish. The lake lies roughly 212 m below the level of the Mediterranean, the 2nd lowest point on the earth's surface after the Dead Sea. It is 21 km long and 13 km at its greatest width, with a circumference of 53 km, and up to 48 m deep.
Another stop is at the site of John the Baptist – or Yardenit batismal – at the Jordan River in the south end of the Sea of Galilee, which is believed to be the place where Jesus was baptized by John the Baptist.
A last stop on the way back to Jerusalem is Beit Shean/Bisan, with its famous Roman theatre and other archaeological excavations.
Departure Time: Wednesday, Saturday 8.00 a.m.
Length: full days
Price: NIS 300
This tour is not guided.